Dear Parents,
There are several updates that I'd like to share with you as we begin the new year!
First of all, let me review some of our projects and concepts from the end of 2013.
As the Pre-K children focused their interests on treasure and pirates, and the Preschoolers were exploring nature, I was able to teach them about radial symmetry and color temperature.
The students in the Pre-K class were really creative in making their own treasure out of a wide range of found materials. With their pieces of treasure, they created a mosaic in air-dry clay with radial symmetry as their direction for design, starting in the middle and then working their way outward. Then their treasure collections were painted with gold glitter to make them extra shiny!
While still working through their Pirate project, I was able to introduce printmaking techniques to the Pre-K class. There had been a lot of conversation about treasure maps, so we observed a variety of examples and came up with a plan to create maps for themselves. They observed water, a compass, creatures in the water, an island, and of course an X to mark the spot. Students were given Styrofoam "linoleum plates" that could be "carved" with the pencil lines. They drew (carved) their islands and then using a breyer to roll on their ink, printed their islands onto their maps. The children truly paid close attention to detail while working on this project.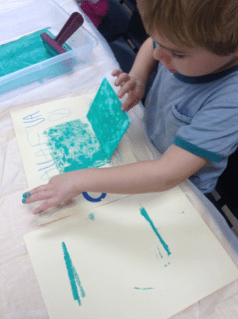 As the Pre-K class transitioned to their Christmas project, I took the opportunity to focus on color temperature and observational still life drawings. Students enjoyed picking out a still life of warm colors (reds, oranges and yellows) and cool colors (greens, blues and purples). One of my favorite techniques for young children is drawing with oil pastels and then painting over them with watercolors. The oil pastel lines resist the water and pop through the paint.
The Preschoolers explored color temperature as we looked at the weather and created a wall-hanging, linking cool and warm colored weather collages with a rainbow of pipe-cleaners.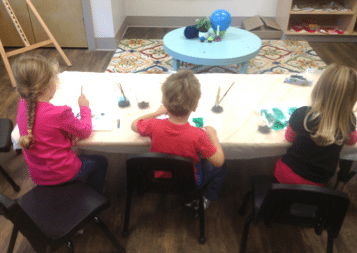 Using tissue paper and glue to cover their papers, students then added oil pastels over the textured surface to create the illusion of heat and rain drops. Some students even found random small objects around the atelier to add as a "big rain drop."
I was able to enjoy some printmaking with the preschoolers as well – covering the bottoms of muffin tins and bubble wrap with paint. Students printed monoprints one week and then added embellishments around the graphic circles, referring to the radial symmetry of flowers.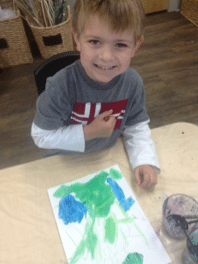 Lastly, we had lots of fun creating Christmas ornaments out of model magic, cookie cutters, burlap and glitter!
And of course everyone contributed to the group projects preparing for the Christmas program. Gold, Frankincense and Myrrh were beautifully created using a wide range of materials! The students LOVE a free for all in the atelier with glue, markers, glitter, scissors, fabric, you name it!
With all of this reflection on a wonderful first semester in the atelier, it is with heavy heart that I must leave my teaching position at CDC to focus my creative energies elsewhere. As a working artist myself, it has become clear that I need more time in my own studio for the time being.
Your children have been precious, energetic, passionate blessings to me (and my entire family) since August. I have loved every minute of time spent with them, watching their creative energies flow into beautiful, imaginative little masterpieces.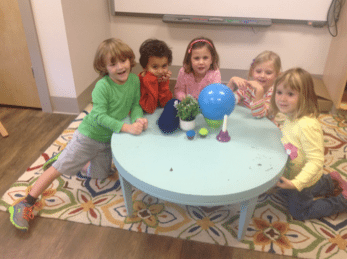 Thankfully, my son Wesley will continue to attend CDC and I will remain a part of the family at this unique and wonderful school. I look forward to following the children's progress through the rest of this year and am thrilled to pass the atelierista torch onto a dear friend of mine, Amy Sargent. Majoring in sculpture in college, having countless years experience in various children's ministries, an artist husband and three precious little girls, Amy will surely be an AMAZING blessing to your children's artistic education at CDC.
God bless you and your families,
Beth Williams
https://www.childrensdiscoverycentersc.com/wp-content/uploads/2022/05/Childrens_Discovery_Center_RGB_Header_Logo-1-300x149.png
0
0
access
https://www.childrensdiscoverycentersc.com/wp-content/uploads/2022/05/Childrens_Discovery_Center_RGB_Header_Logo-1-300x149.png
access
2014-01-09 13:47:48
2014-01-09 13:47:48
Update from the Children's Discovery Center Atelier