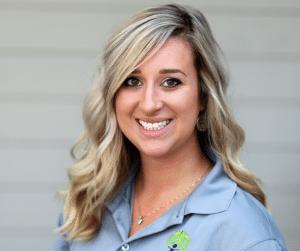 Ms. Alex Gibson is the Toddler E lead teacher and department coordinator. She moved to Charleston from a small town outside of Pittsburgh, Pennsylvania.
Ms. Alex has always had a passion for children, which is the reason she studied speech and hearing with a focus in adolescence at Edinboro University. After obtaining her degree, she worked in a classroom for children with special needs, which further solidified her love of teaching children.
After instantly falling in love with Children's Discovery Center and its Reggio inspired philosophy Ms. Alex said, "Children are capable, competent, and natural researchers who have a desire to learn."
Ms. Alex believes the most interesting part of the Reggio learning style is how each child may possess the same materials, yet each creation is completely unique. Her favorite aspect of working at Children's Discovery Center is watching and listening to how each child interprets a concept.
She also believes communication is one of the main keys to educational success, which is why she loves inspiring discussion and conversion amongst the entire class. Her students teach her something new every day, which is what she believes is the most rewarding aspect of teaching.
When Ms. Alex isn't in her Children's Discovery Center uniform, you will most likely find her exploring the city or at Kiawah Beach with her two beloved puppies, Kona and Ollie.
A fun fact about Ms. Alex is she considers herself a "foodie" and enjoys venturing to different restaurants to sample new, bizarre foods. She mentions that she is a die-hard Pittsburgh Steelers fan, and more than likely will be found watching and cheering loudly for the Steelers every Sunday.
She stated how her mother has been a preschool teacher for more than 20 years and is the epitome of what a teacher should embody: patience, creativity and strength. Ms. Alex hopes she is able to embody those traits in her classroom every day to positively impact her students' education.
https://www.childrensdiscoverycentersc.com/wp-content/uploads/2022/05/Childrens_Discovery_Center_RGB_Header_Logo-1-300x149.png
0
0
access
https://www.childrensdiscoverycentersc.com/wp-content/uploads/2022/05/Childrens_Discovery_Center_RGB_Header_Logo-1-300x149.png
access
2018-09-12 10:16:08
2018-09-12 10:16:08
Featured Teacher: Alex Gibson | Toddler E Teacher | Venning Road