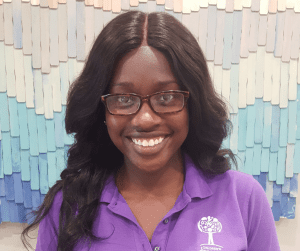 For as long as she can remember, Shauntel knew she wanted to work with children. She began substitute teaching for Children's Discovery Center while she was still in college and officially joined the team after graduation — and she hasn't looked back since!
"Working here was one of the best decisions I've ever made," said Shauntel.
Her favorite part about working at Children's Discovery Center is when she arrives at her classroom in the morning and her students immediately run up to her and give her hugs.
Shauntel loves the opportunity to incorporate natural materials that her students can get right outside the classroom and see what they can do with them. Letting their imagination run wild is especially fun for her.
In addition to using natural materials, Shauntel enjoys using music in her lessons, too.
"My assistant Ms. Alecia has a beautiful voice, and while preparing lunch, Ms. Alecia will take what we did during morning meeting and turn it into a song. The kids love it and sing along."
A Charleston native, Shauntel enjoys trying new restaurants and spending time with her family in her spare time. She is a firm believer that "if life gives you lemons, don't settle for simply making lemonade — make a glorious scene at a lemonade stand."
https://www.childrensdiscoverycentersc.com/wp-content/uploads/2022/05/Childrens_Discovery_Center_RGB_Header_Logo-1-300x149.png
0
0
access
https://www.childrensdiscoverycentersc.com/wp-content/uploads/2022/05/Childrens_Discovery_Center_RGB_Header_Logo-1-300x149.png
access
2018-10-12 11:39:54
2018-10-12 11:39:54
Featured Teacher: Shauntel Foreman | Pre-school B Lead Teacher | Park West