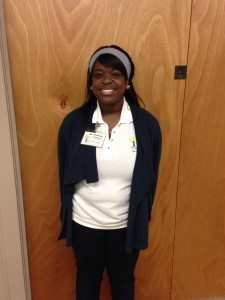 From New York with a bachelor's degree in childhood education, Ms. Victoria believes that education should be exciting to children. "We should learn together. At Children's Discovery Center, I learned the child is the first teacher, the teacher is the second teacher and the third teacher is the environment. I think that philosophy is beautiful.
"Children's Discovery Center's Reggio Emilia philosophy and approach resonated with me from day one and I knew I wanted to be a part of it," she says.
An important part of her work is teaching students to identify, name and imitate different things. "I love showing them a picture and watching their expressions as they try to figure it out, point to the picture and name it. It's a priceless moment that I cherish."
During project time, children take on the role of being the teacher as she stands back and observes. "I feel like the student because I'm learning from them. I watch as they use their minds to develop fundamental concepts of how things happen." While the children are exploring, she brings up questions to further their curiosity. "I am there to guide them as they develop the meaning of the project they're doing."
Born and raised in the Bronx, Ms. Victoria has a dog, "Mr. Bentley," and is engaged to her boyfriend, Luke, who is also a teacher. She enjoys shopping with her mother, writing poetry, spending time with family and the outdoors.
"I love to dance as if no one is watching, and sing as if no one is listening!"
https://www.childrensdiscoverycentersc.com/wp-content/uploads/2022/05/Childrens_Discovery_Center_RGB_Header_Logo-1-300x149.png
0
0
access
https://www.childrensdiscoverycentersc.com/wp-content/uploads/2022/05/Childrens_Discovery_Center_RGB_Header_Logo-1-300x149.png
access
2014-12-15 11:04:08
2014-12-15 11:04:08
Pre-Toddler D Lead Teacher - Victoria Smith